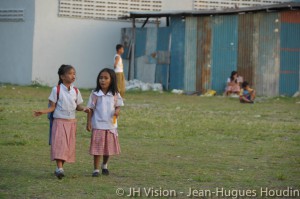 For many years, Les Oursins* – Enfants des Trottoirs improve the conditions of schooling of children from slums or shanty towns (in the province, forcibly, …), including through school sponsorship program.
Children are sent to private or public structure, kindergarten, elementary, high school and college, according to our budget and motivation and level of the child. Our association supports registration fees, uniforms, shoes, underwear, supplies, transportation, school projects, books. Moreover, we ensure their daily presence and follow results and behavior very closely!
Since our creation, Les Oursins* – Enfants des Trottoirs have helped more than 250 children to graduate from elementary school, more than 80 have the equivalent of a bachelor's degree and twenty students to pursue higher education.